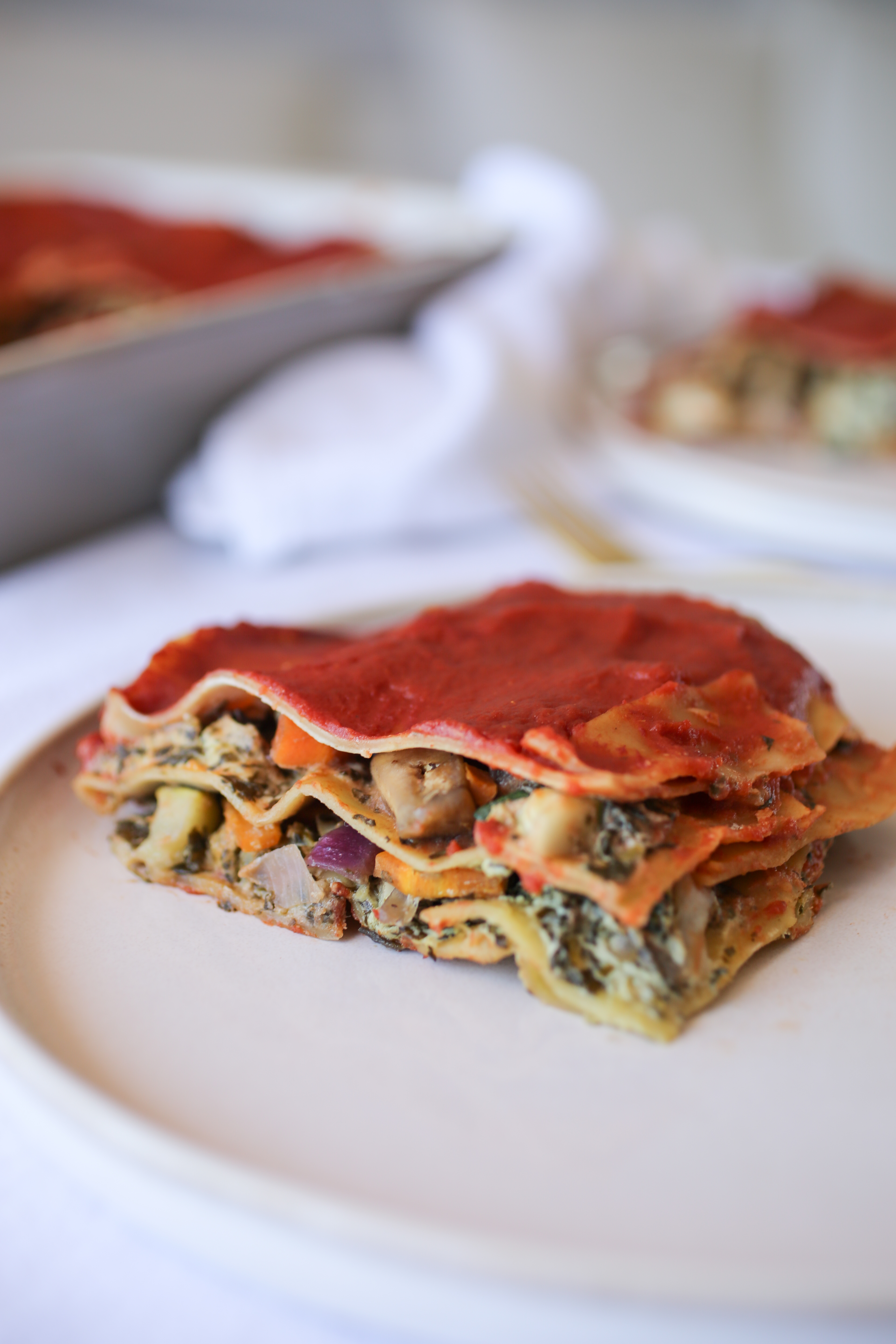 There's nothing like a hearty meal like lasagne. This one pot vegetable lasagne will make sure you're getting your daily servings while also filling your stomach.

Serves 6
Vegan, dairy-free, Refined sugar-free

Ingredients
1 tablespoon extra-virgin olive oil
3 garlic cloves, minced
1 small red onion, finely chopped
2 cups carrots, peeled and finely chopped
2 cups zucchini, finely chopped
2 cups eggplant, finely chopped
6 mushrooms, finely chopped
1 teaspoon dried thyme
1 teaspoon dried oregano
Pinch of salt and pepper
250g frozen spinach, thawed
270g Nutty Bay cheesy cashew cheese
680g organic pasta puree sauce
12 large oven ready lasagne sheets

Method
1. In a large skillet, heat oil over medium heat. Add garlic and onion and sauté for 5 minutes.
2. Add carrots, zucchini, eggplant, mushrooms, spices and seasoning. Continue to sauté for another 5-7 minutes. Remove from heat and set aside.
3. Preheat oven to 200ºC and get a 9x12 inch baking dish ready.
4. In a large bowl, combine thawed spinach and cashew cheese using a spatula.
5. Begin to assemble the lasagne by placing 1/3 cup of organic pasta puree sauce on the bottom of the baking dish. Spread to coat the whole bottom.
6. Layer with 4 lasagne sheets, half of the ricotta mixture and half of the sautéed vegetables.
7. Add another layer of 4 lasagne sheets, half of the pasta sauce, the remaining ricotta mixture and the remaining sautéed vegetables.
8. Add the final layer of 4 lasagne sheets and the remaining pasta sauce.
9. Cover with foil and place in the oven to cook for 45 minutes.
10. Allow to cool for 5 minutes. Remove foil and serve.